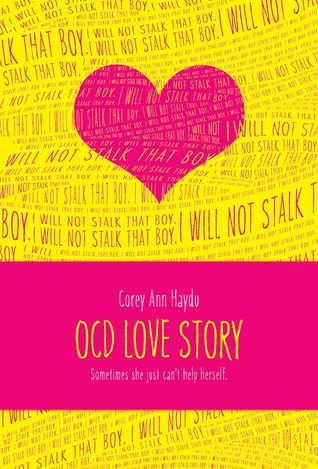 " When Bea meets Beck, she knows instantly that he's her kind of crazy. Sweet, strong, kinda-messed-up Beck understands her like no one else can. He makes her feel almost normal. He makes her feel like she could fall in love again. But despite her feelings for Beck, Bea can't stop thinking about someone else: a guy who is gorgeous and magnetic... and has no idea Bea even exists. But Bea knows a lot about him. She spends a lot of time watching him. She has a journal full of notes. Some might even say she's obsessed. Bea tells herself she's got it all under control. But this isn't a choice, it's a compulsion. The truth is, she's breaking down...and she might end up breaking her own heart

"
The Quick of It
:
I won this book from the author (thanks!), though that does not affect my review. Now onto the fun stuff. :)
While Haydu's writing style is really accessible, OCD Love Story is not an easy story to read. It's not meant to be- you feel everything Bea feels, every frustration and yearning and hope. So basically, this book doesn't just tug on your heart strings, it grabs onto them and won't let go.
Demerits
:
There's been a lot of cheerleader hate in the books I've been reading lately. So I got a little ruffled over this passage:
"Something no one knows: Football-playing popular dudes sometimes fall for quirky smart girls as long as they, you know, have a pretty face and decent body. I think they get sick of the anorexic cheerleaders, and if you catch them at the right moment, you convince them to want something more."
In simple terms, this is a classic case of...
This passage not only shames a body type by making light of anorexia but it unnecessarily encourages girl-on-girl hate and competition. I can understand why Bea, a girl who already feels different from other people, might lash out but this isn't consistent with the rest of her characterization.
Also, some of the ways Bea talks about her best friend is alarming. Like the point when she says, "She's not a lost cause, exactly, but she loses track of her hands, her words, her facial expressions too easily and it's gotta be at least part of the reason she's still never kissed a guy." Because, naturally, every movement girls make is to attract a guy.
After this book, I will never ever say "I'm so OCD" just because I like my books organized nor will I allow any of my friends to say it. OCD Love Story is really eye-opening about what it's like to live with this disorder and you get to see how different teens cope with it. Bea desperately wants to control her compulsions, but because OCD is a form of anxiety (something I did not know before I read this), it's nearly impossible to.
"Torture: knowing something makes no sense, but doing it anyways."
A character who actually likes the way she looks and is unashamed of it! It was such a relief to have Bea say that she is gorgeous and own it (it's very Beyonc
é
of her, and by that, I mean it's awesome). Of course I can't find the page with that passage on it now, but here's a close second:
"Let's face it: I'm really pretty in winter."
A Note on the Grade
:
Even though I had my complaints, I want to make it clear that OCD Love Story is a really great read. It really provides such an honest perspective and with such a dynamic character as Bea, it's a fantastic story.