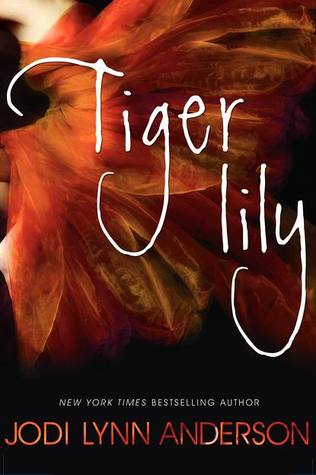 Fifteen-year-old Tiger Lily doesn't believe in love stories or happy endings. Then she meets the alluring teenage Peter Pan in the forbidden woods of Neverland and immediately falls under his spell.




Peter is unlike anyone she's ever known. Impetuous and brave, he both scares and enthralls her. As the leader of the Lost Boys, the most fearsome of Neverland's inhabitants, Peter is an unthinkable match for Tiger Lily. Soon, she is risking everything—her family, her future—to be with him. When she is faced with marriage to a terrible man in her own tribe, she must choose between the life she's always known and running away to an uncertain future with Peter.

With enemies threatening to tear them apart, the lovers seem doomed.






The Quick of It

: Tiger Lily

is a beautifully woven tale with a dynamic cast and a compelling plot. Readers looking for romance will be enthralled (I definitely was), but what makes it so special is the way Anderson creates a heartbreaking fairy tale while addressing everything from colonialism to family to gender.




"For the girls with messy hair and thirsty hearts."




Demerits

:

None!

Tiger Lily

is exemplary, though on the ARC cover I have, there is a picture of a Caucasian girl, who the reader would presume is Tiger Lily (even though she isn't white). Since I haven't seen this cover anywhere else - I'm not sure it has ever been used, except perhaps on ARCs - I won't give it a Whitewashing demerit.



The characters in this novel are familiar and new all at once. You have your old favorites- Peter, Tink, Tiger Lily- but with layers of depth not seen in the original tale. And then there are the new members of the cast. Not only do you have characters of color, but Tik Tok (the shaman) isn't defined by one gender. Neither he nor Tiger Lily fit into their assigned gender roles, and the novel raises many questions about the importance of gender, its construction, and even how Western society influences it. I won't say more than that because, you know, spoilers, but even as you're swept up in the magic of Neverland, this book will make you think.
"
She thought of Tik Tok, who was fond of saying that people were all bits of each thing, boy and girl.
"
As for the friendship, I loved Tink and Tiger Lily's relationship throughout the novel. Even though Tink is in love with Peter, and Peter is in love with Tiger Lily, Tink is still fiercely protective of Tiger Lily. She doesn't buy into the girl-on-girl competition trope that is all-too-common in stories, so that's awesome. I mean, just the fact that Tink narrates the story and is finally given a voice is phenomenal and I will never, EVER look at Tinker Bell the same way again.
As for Tiger Lily herself, I've never read about a character quite like her. She's wholly unique and blurs the lines of good and bad. She's a jumble of things - stoic, passionate, loyal, selfish, brave, insecure - but never boring, that's for sure. I honestly wish I could dive back into her world for just a few more pages.
Final Grade: A