It feels like we just did this, right? Probably because it's only been a few days. But it's Noah's turn in the
YA Crush Tournament
again and, well, he's losing.
What does that mean?
That he needs your support more than ever
! But why should you vote for him?
Noah is gorgeous. He has messy, just-got-out-of-bed hair with a sexy five o'clock shadow. His clothes are constantly in disarray, in a way his tall, lean form can most definitely pull off. As for his smile, it's one of those half-smirks, as if he's hiding a secret. His eyes? A smoldering gray-blue.
But what about brains?
I mean, looks are nice, but intelligence is truly attractive. And Noah is smart. I'm not just basing that on his witty repartee- he's also widely read. (I mean, come on: a BOOKISH hot guy. Excuse me while I swoon.)
British Accent.
He has one. Need I say more?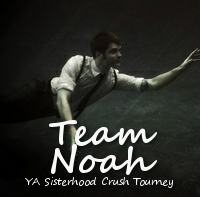 What else do you need to know about Noah Shaw?
1.) He saved a dying dog.
2.) He's a tortured soul.
3.) He plays guitar.
4.) He's the King of Sexual Innuendos.
"'Why do you always look like you just rolled out of bed?'
'Because usually I have.' And the way he raised his eyebrow at me made my blush."
5.) He's also terribly romantic.
"'Mara, I have never felt about anyone the way I feel about you. And when you're ready for me to show you,' he said, brushing my hair to the side, 'I'm going to kiss you.' His thumb grazed my ear and his hand curved around my neck. He leaned me backward and my eyes fluttered closed. I breathed in the scent of him as he leaned in and kissed the hollow under my ear. My pulse raced under his lips.
'And I won't settle for anything less.'"
What more can you want in a Crush, right? He's drop-dead sexy with razor sharp intelligence, with a British accent and devious smile. BUT, in case I haven't convinced you yet, I wrote a song based on his relationship with Mara. (Which, admittedly, may not convince you at all, but I get points for effort, right?)